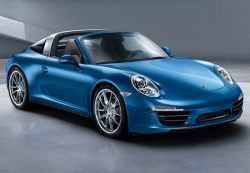 — Porsche is recalling over 4,400 model year 2014-2015 Porsche 911, Boxster and Cayman cars to fix the front hood.
Porsche says the two-door sports cars have lock brackets on the hood that might not meet quality standards for the life of the cars. The automaker says the cars passed all strength requirements and inspections, but the cars will still be fixed as a precautionary measure.
Porsche says it doesn't know of any instances where a hood opened and there haven't been any reports of accidents or injuries related to the lock brackets.
The problem has already been corrected in production, but the lock bracket will need to be replaced on 4,428 cars currently on the road.
Owners of of the affected 2014-2015 Porsche 911, Boxster and Caymans will receive recall notices within 60 days. Porsche dealers will require about 30 minutes of your time to replace the bracket.
With questions or concerns, contact Porsche at 800-767-7243 and choose option 3.