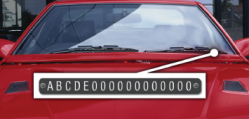 — For the first time since the invention of the automobile, consumers can use a free online government tool to find out if a motorcycle, car or truck has been recalled but never repaired.
All you'll need is the vehicle identification number (VIN) that you can find in the lower left dash area under the vehicle's windshield. The 17-digit number can also be found on your registration card or in some cases your insurance card, and inside the driver's door. When you open the driver's door, look for the VIN label near the latch of the door.
Considering the government believes about 30 percent of people ignore recall notices, the VIN search tool will be a huge help in knowing if the car you want to buy still needs to be repaired.
The search tool can't do everything, such as tell you about non-recalls like technical service bulletins or customer service campaigns announced by an automaker. Further, not every automaker and auto is included in the search results, including very small car manufacturers and some so-called "ultra-luxury' cars.
NHTSA says unless an automaker chooses to include the information, recalls older than 15 years won't be listed on the government website. Additionally, NHTSA includes only information provided by the automaker, so if the automaker is wrong, the government search results will be wrong.
Although the search results show open recalls going back 15 years, it's important to note federal regulations say an automaker isn't required to fix a car if the recall is older than 10 years. You'll need to ask your manufacturer for a favor.
Once you input your VIN, the search results will say something like this:
Recall INCOMPLETE: Your vehicle has been recalled and still needs to be repaired.
Recall INCOMPLETE - Remedy Not Yet Available: Your car has been recalled and needs to be fixed, but the manufacturer doesn't have the parts or isn't ready to fix the car.
Number of Open Recalls 0: Your vehicle is good to go, at least concerning a recall.
NHTSA says very recent recalls might not be included in the search results if there hasn't been time to collect all the VINs.
You should also be able to find any open recalls on your manufacturer website, somewhere.
The easiest way? https://vinrcl.safercar.gov/vin/