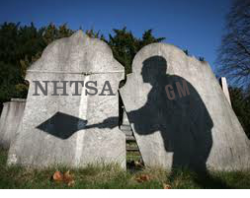 — Legislators on Capital Hill had tough questions for the National Highway Traffic Safety Administration (NHTSA) over its handling of the deadly General Motors ignition switch defect.
House committee members of both parties grilled David Friedman, acting deputy administrator of NHTSA, about why the agency responsible for protecting American lives spent over 10 years ignoring clear and evident problems at GM.
Although legislators admitted GM should take most of the blame for accidents, injuries and deaths related to defective ignition switches in millions of cars, lawmakers accused NHTSA of sitting in the bleachers while the 10-year game was played.
Administrator Friedman fired back the safety agency didn't do anything about the defect because GM knowingly hid the facts, including by telling its employees not to use certain words.
"It wasn't simply incompetence on their part. They had policies in place to not mention the word 'defect' in order to shield information from NHTSA. They were actively trying to hide the ball. NHTSA was working hard to find the ball and was missing critical information." - David Friedman
That response didn't impress lawmakers, especially Sen. Claire McCaskill, D-Mo., chairwoman of the subcommittee.
"That reflects obviously on an agency that is perhaps more interested in singing "Kumbaya" with the manufacturers than being a cop on the beat. Why can you not take a measure of responsibility?" - Claire McCaskill
In a report from the House Energy and Commerce Committee, investigators concluded NHTSA had ample evidence in 2007 of serious problems with the GM ignition switch but failed to do anything about it. Even more upsetting is the report said federal safety regulators didn't even understand how the air bag systems worked, even though NHTSA is the agency that created the air bag safety regulations.
NHTSA said in a statement it investigated accidents reported in GM vehicles but found nothing wrong.
"The agency looked into this issue not once, but twice, including sending investigators to examine several crashes in person, but GM withheld information and hindered NHTSA's efforts every step of the way, including changing a defective part without informing the agency, which caused the number of complaints to decrease, skewing the data when the agency reviewed the issue a second time." - NHTSA
Although NHTSA does order investigations based on complaints or public petitions, evidence from past investigations shows the agency primarily depends on information provided by an automaker. Many of those so-called "investigations" are little more than analyzing complaint data instead of performing real-life investigations of an allegedly defective auto part.
Additionally, many official defect investigations are closed based on the actions of an automaker, not because a government investigator actually performed a hands-on investigation of a car.
A small example is a recent Toyota Camry Hybrid investigation. NHTSA opened the investigation to determine if a braking defect existed in the cars.
Most consumers would assume government investigators would then confirm or deny if the Camry has a defect. However, that assumption would be wrong, as NHTSA closed the investigation after Toyota agreed to extend warranty coverage on the Camry Hybrid braking system.
NHTSA ended its defect report by admitting safety regulators have no idea if a defect exists now any more than they did before the investigation was opened.
"This preliminary evaluation is closed. The closing of this investigation does not constitute a finding that a safety-related defect does not exist." - NHTSA
Another good example comes from a September 2014 GM recall of 133,000 Chevy and Cadillac cars.
Although the government had opened an investigation after complaints about brakes getting stuck, it was GM who did the investigating.
Instead of safety regulators inspecting the cars first-hand, it was GM that reviewed warranty data related to the automatic braking. It was also GM that contacted dealers asking for additional information about parking brake drag. Further, instead of NHTSA determining what the problem was, it was GM that determined the parking brake software was allegedly defective.
It's expected NHTSA will close its investigation based on GM recalling the cars, but considering it was GM who did the investigating in the "government" investigation, safety advocates wonder if this is a case of the fox guarding the hen house.