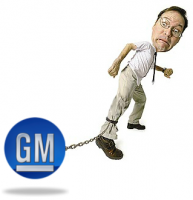 — Senator Ed Markey, D-Mass., says GM documents prove GM and the National Highway Traffic Safety Administration (NHTSA) knew a defective ignition switch caused air bags to fail in a fatal Wisconsin crash. The Chevy Cobalt accident killed two teens and was investigated in 2007 by an independent contractor and the Wisconsin State Patrol Academy.
The reports showed the accident was linked to a failure of the air bags because the ignition switch was not in the "run" position. Markey said GM sent NHTSA a report in 2007, yet NHTSA did not inform the public or order a recall.
Senator Markey received the document as part of the ongoing investigation of GM's decision to wait 10 years to recall dangerous cars with a known safety defect.
"Park-It-Now" Order Rejected
Markey is one of two senators who asked the U.S. Department of Transportation to issue a warning to GM owners to park their cars until they are fixed.
That request had already been shot down by a judge who said a court had no legal right to issue such a warning. The judge said the matter should be handled by NHTSA, hence the reason Markey and Senator Richard Blumenthal, D-Conn., made the request to the government.
However, NHTSA responded by saying no further action is needed beyond GM's warning to remove everything from the car key. NHTSA says they are satisfied with GM's warning after the government evaluated road tests performed by the automaker and found removing all the items from the key would prevent the problem.
GM did admit in a letter to customers "the ignition key is too easy to turn" and warned bumpy roads could cause the ignition switch to move without warning.
"I welcome GM's belated recognition that its defective cars are seriously dangerous when jostled or jolted – as I have repeatedly urged that the company acknowledge. GM should more urgently warn owners to avoid driving these risky cars until they're repaired and switch to a loaner vehicle from their dealer if repairs cannot happen right away." - Senator Richard Blumenthal
Read complaints submitted to CarComplaints.com about the cars with the defective ignition switches: