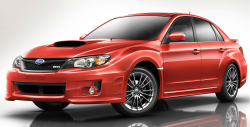 — Owners of the Subaru Outback and Legacy had a tough time in 2013 due to numerous recalls of those models.
One of those recalls involved 200,000 model year 2005-2009 Outback and Legacys because the brake lines could rust and leak fluid. However, it looks like that recall didn't work out so well, as the National Highway Traffic Safety Administration (NHTSA) announced 660,000 cars are recalled for the same brake line rust.
Subaru is recalling model year 2005-2009 Outback and Legacy, 2008-2011 Impreza, 2008-2014 Impreza WRX/STI, and 2009-2013 Forester cars, but only those currently or formerly registered in:
Connecticut, Delaware, Illinois, Indiana, Iowa, Maine, Maryland, Massachusetts, Michigan, Minnesota, Missouri, New Hampshire, New Jersey, New York, Ohio, Pennsylvania, Rhode Island, Vermont, West Virginia, Wisconsin and the District of Columbia
If either the center or rear brake lines fail, braking will be possible because the brake lines work separately. However, all braking will be lost if both lines fail. A driver will see a brake light illuminate because the brake fluid will disappear from the system.
Subaru doesn't know when the recall will begin. Dealers will check the Legacy, Outback, Impreza and Forester for any brake fluid leaks. Rustproofing and anti-corrosion wax will be applied if no brake fluid is leaking.
If brake fluid is leaking, the lines will be replaced and then rustproofing and anti-corrosion wax will be applied.
Subaru emphasizes all vehicles fixed during the 2013 recall will need to be repaired again. Owners can contact Subaru at 800-782-2783 and refer to recall number WQK-47.
Read owner-reported complaints about the Subaru vehicles listed in the recall: