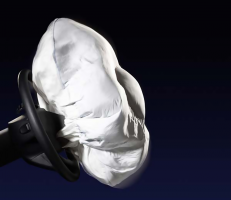 — Air bags are meant to protect you in a crash, not cause serious wounds from metal shards flying from the air bags. In April, 2013, millions of cars were recalled after air bag maker Takata discovered defective air bag inflators installed in several models.
Takata found a problem with the propellant used in the front passenger airbag inflators. Once the air bag deploys in a crash, the inflator in the bag could rupture and cause severe burns or cuts to the upper body.
Toyota recalled 766,300 vehicles during the 2013 recall, including the 2003-2004 Toyota Corolla, Corolla Matrix, and Tundra; 2002-2004 Sequoia; and 2002-2004 Lexus SC 430 coupes.
The alleged "fix" to the problem had Toyota inspecting the front passenger air bag, and if equipped with an affected inflator, the inflator would be replaced with a new one. However, Toyota has determined serial numbers provided by the supplier were incomplete and did not include all of the potentially involved inflators.
This time, Toyota will need to call back 844,000 cars which were inspected and did not receive a replacement inflator and replace the inflator with a new one. The automaker also has to make sure any cars that haven't been fixed in the 2013 recall will need the air bag inflator replaced completely.
UPDATE (June 23, 2014): Toyota announced a limited regional recall for model year 2003-2005 Toyota Corolla, Matrix, Sequoia, Tundra, Lexus SC 430, and Pontiac Vibe vehicles equipped with Takata-brand passenger side air bag inflators. The recall includes vehicles currently registered in Florida, Puerto Rico, Hawaii and the U.S. Virgin Islands.
Affected owners should watch for official notification from Toyota, or call them at 800-331-4331. Lexus owners with questions can call 800-255-3987. Vibe owners with questions can call 800-521-7300.
Own or thinking of buying one of the cars named in the recall? Click below to read what others say about their vehicles.