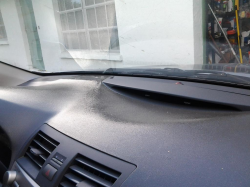 — After years of complaints about melting dashboards in Lexus and Toyota vehicles, two Lexus owners have filed a class-action lawsuit against Lexus and its parent company, Toyota Motor Corporation.
The Lexus melting dashboards class-action lawsuit, filed by the Ferraro Law Firm in Miami, alleges heat and sunlight can cause the dashboards to be sticky, shiny and cracked to the point of being hazardous to driving.
The lawsuit says Toyota issued a technical service bulletin about the problem in 2011 which told dealers to repair and replace the damage under a comprehensive warranty. However, plaintiffs Daniela Perez and Jesus del Rio allege dealers refused to repair damages for vehicles no longer under warranty.
CarComplaints.com has for years heard the same complaints from many Toyota and Lexus owners. The complainants say the problem can be so serious it can blind a driver.
"I went to the dealership to get my nav fixed because that went out too. They couldn't because my dash was melted and they didn't want to remove the nav. They said this is happening on these dashboards and if they try and move it, it would get brittle and fall apart. I called lexus and they denied that any of this is happening, but i can't even see out my car because it so shiny and it blinds me." - 2006 Lexus IS 350 owner
"My dashboard is melting. It's melting so bad this is safety issue in my opinion. When sun is shining outside around noon, reflection from melted dashboard is so bad on windshield, you can't even see it. If this leads to an accident, I'll surely sue Toyota for this." - 2007 Toyota Camry owner
Other owners say even when Toyota/Lexus offered to pay part of the cost of repairs, the remaining amount could wipe out a bank account.
"I have been talking to Toyota customer service for over 3 years and they offered me $750 credit towards the total cost of replacing the dash of $2400. They said it was for my loyalty but since the car is out of warranty they have no obligation to do anything. They also said that they have no complaints, but if you look at all the postings on the internet, you will see that they are blatantly lying." - 2007 Toyota Camry owner
"Just got a call from Toyota and they're willing to "split" the cost with me. They are sooooo gracious. My "half" would be roughly $1000."- 2007 Toyota Camry owner
For further information about the Toyota/Lexus melting dashboards class-action lawsuit, contact the Ferraro Law Firm at www.ferrarolaw.com.