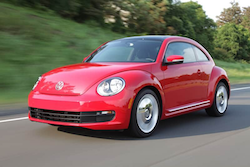 — Volkswagen is recalling over 7,000 model year 2015 VW Beetles to fix sunroofs that can break when the cars hit a pothole or travel on a rough road. The sunroof is more likely to break in cold weather and when road salt is used.
VW says the defective sunroofs were discovered during routine monitoring that showed incidents of fractured sunroof glass, and the evidence proved the glass wasn't hit by anything.
VW started an internal investigation and found a problem with the metal sunroof frames that were manufactured beyond the tolerance range for the sunroof glass. The stress on the glass can be too much to handle, especially while traveling over a rough surface in cold weather. VW also believes certain road salts used in the winter might affect the sensitivity of the glazing on the sunroof glass.
A shattered sunroof not only can cause cuts to occupants in a VW Beetle, but the glass breaking while driving at highway speeds can be a huge distraction to driving.
The 2015 VW Beetle sunroof recall should begin December 19, 2014. VW dealers will replace the entire sunroof.
Owners of the 2015 VW Beetle can contact Volkswagen customer service at 800-822-8987 and give them recall number 60B9.