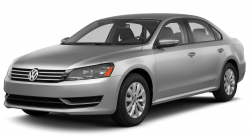 — Volkswagen has announced they are recalling 150,201 model year 2012-13 Passat cars because closing the hood could cause a headlight to pop loose.
VW says the hood could probably be pushed gently shut without any problems, but dropping the hood from any noticeable height could cause the low-beam headlight bulb to lose its electrical connection. A driver would see a warning light on the dash indicating a problem with the bulb, but fixing the bulb connection could be a waste of time if you drop the hood again.
VW says no crashes or injuries have been reported but dealers will still need to fix the problem. The National Highway Traffic Safety Administration hasn't released a recall schedule, but VW will contact owners by mail to arrange a dealer appointment.
VW dealers will install a different fitting for the headlight bulb and possibly install new hood bumpers to protect the hood from hitting the headlight assembly.
Affected VW Passat owners can contact the Volkswagen at 800-822-8987.