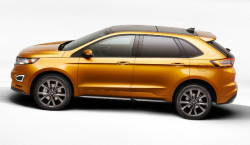 — Ford Edge owners who have complained about water leaks in their 2015 Ford Edge SUVs will finally stop needing to wear snorkeling gear to drive.
Although not an official recall, Ford has announced "customer satisfaction program 15B21" after owners complained about water seeping through the A-pillar areas. Ford discovered water could enter a metal joint behind the hood hinge and cause water damage in numerous areas, including the carpet, floorboard, dash and A-pillar areas.
A Canadian Ford Edge owner told CarComplaints.com the problem was forcing him to get the new SUV back to the dealer.
"I am extremely disappointed that a brand new car would have the drivers side carpet sopping wet. Taking it to the dealer June 8th. I am concerned about mildew." - 2015 Ford Edge owner / Guelph, Ontario
Ford says at least 19,000 of the SUVs are in owner hands and another 11,000 are at dealerships, and all the recalled SUVs were manufactured prior to April 28, 2015. Ford dealers will not only contend with fixing the leaks, but also repairing any damage caused by the water.
The National Highway Traffic Safety Administration isn't calling this a recall, and neither is Ford. The water leaks are not considered a safety defect, although it's difficult to see how waterlogged carpets and rusted floorboards could help in matters of safety.
The Ford Edge "customer satisfaction program 15B21" will, at the minimum, take hours to complete, and possibly days. Ford says any Edge SUV that shows signs of water leaks will be held for three days at the dealership while technicians make and test repairs. Loaner vehicles will be available.
If an SUV is brought in that shows no signs of leaks, the dealer will apply a sealer to the A-pillar seams, but testing the sealer won't be necessary.
If you own one of the 2015 Ford Edge SUVs and have questions, contact Ford at 866-436-7332.
This isn't the first time the 2015 Ford Edge has been recalled. In April 2015, the 2015 Edge was recalled to fix steering gear bolts that could break and cause a loss of power steering.