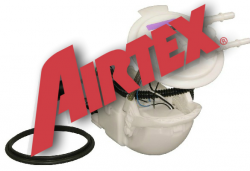 — The National Highway Traffic Safety Administration (NHTSA) has opened an "equipment query" investigation into an undetermined number of Airtex Products fuel pump modules after the pumps caused a recall of Cadillac STS-V and STS-V cars.
In the 2014 Cadillac fuel pump recall, a mechanic first noticed a hole in a fuel pump module possibly caused by the module's electrical connectors overheating and melting through the flange material.
A GM investigation confirmed the hole and that gas could leak from the flange material surrounding the terminals on the fuel pump module. The investigation further showed the electrical connectors on the Airtex fuel pump could overheat and deform from corrosion due to vibrations from the motor.
The problem was corrected by replacing the electrical connector contacts with contacts containing Beryllium copper. Further, the stiffness of the wire sheathing was reduced which reduced the effects of vibration.
NHTSA says the purpose of this EQ (equipment query) investigation is to write to Airtex Products and the companies that purchased the same or very similar fuel pump modules, notify them of the Cadillac recall and ensure safety recalls are ordered where appropriate.