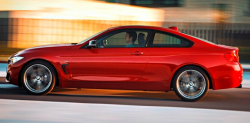 — BMW is recalling over 70,000 cars worldwide for problems with the Bosch fuel pumps, the fuel pumps that just caused Nissan to recall 95,000 crossover SUVs.
BMW says a long list of model year 2014-2015 vehicles are affected by the fuel pump recall.
2014 BMW 228i Coupe
2014 BMW M235i Coupe
2014 BMW 320i
2014 BMW 320xi
2014 BMW 328i
2014 BMW 328xi
2014 BMW 335i
2014 BMW 335xi
2014 BMW ActiveHybrid 3
2014 BMW 328xi Sports Wagon
2014 BMW 428i Coupe
2014 BMW 428xi Coupe
2014 BMW 435i Coupe
2014 BMW 435xi Coupe
2014 BMW 428i Convertible
2014 BMW 428xi Convertible
2014 BMW 435i Convertible
2014 BMW 328xi Gran Turismo
2014 BMW 335xi Gran Turismo
2015 BMW 428i Gran Coupe
2015 BMW 428xi Gran Coupe
2015 BMW 435i Gran Coupe
BMW first noticed fuel pump problems in mid-2014 when fuel pump warranty claims increased. Bosch, the maker of the fuel pumps, also noticed an increase in reports about the same fuel pumps. Between January and March 2015, Bosch identified the root cause of the fuel pump failures, and it all came down to nickel-plated particles.
Those particles can detach from the fuel pump's cover and move into a space between the impeller and the pump cover. The particles are enough to stop the impeller from rotating and cause fuel pump failure. If the failure occurs while driving, expect to call a tow truck.
BMW says the recall should begin on April 30, 2015. The only way to fix the fuel pump failures is to replace the fuel pump, which is exactly what BMW dealers plan to do.
If you own one of the many different vehicles named in the BMW fuel pump recall, contact the automaker at 800-525-7417.