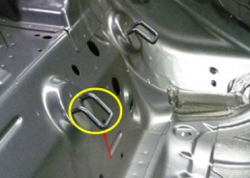 — BMW is recalling over 7,000 vehicles to repair problems that can cause child restraints to fail. The recalled cars include the 2016 BMW 528i, 528i xDrive, 535i, 535i xDrive, 535d xDrive, M5, 550i, 550i xDrive and 535d sedans.
BMW says the cars have an inboard lower anchor for child restraints on the left rear seat that could be bent downwards.
BMW found the problem in September 2015, when the issue was seen during a regular audit at the assembly plant. Engineers found the inboard anchor on the car's left rear seat for installing a child restraint system was bent downwards. BMW was able to install a child seat system but it took a lot of effort, so the automaker stopped delivery of the vehicles.
The automaker discovered 290 out of 408 vehicles contained an inboard lower anchor that was bent. Further tests showed the child restraint systems wouldn't engage at all, but those cars were located outside the U.S. The automaker had to determine if the same problem plagued its U.S. cars and an investigation showed similar problems.
BMW has not received any reports of accidents or injuries related to this issue.
The recall should begin December 24, 2015. BMW dealers will inspect and repair the inboard lower anchor on the left rear seat.
Owners of the recalled BMW cars can contact the automaker at 800-525-7417.