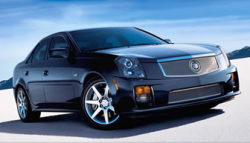 — General Motors is recalling over 4,900 older Cadillac CTS-V cars to repair problems with the braking systems. GM says the model year 2004-2007 Cadillac CTS-V vehicles can suffer from damage caused by road salt in cold-weather areas and cause corrosion to the front brake hose fitting at the caliper.
Because GM believes only colder weather areas are affected, the automaker is recalling cars currently registered or originally sold in the following states:
Connecticut, Delaware, Illinois, Indiana, Iowa, Maine, Maryland, Massachusetts, Michigan, Minnesota, Missouri, New Hampshire, New Jersey, New York, Ohio, Pennsylvania, Rhode Island, Vermont, West Virginia, Wisconsin and the District of Columbia.
Along with the specific locations, only Cadillacs manufactured between September 6, 2003, and June 11, 2007, are affected.
The road salt and other chemicals used on icy roads can corrode the hose fitting and cause a loss of brake fluid. Leaking brake fluid means longer stopping distances, and in some cases a loss of braking.
It's not the first time GM has recalled older Cadillac CTS cars for corrosion problems. In 2010, over 139,000 model year 2003-2007 Cadillac CTS cars were recalled for the exact same reason.
GM says the Cadillac CTS-V recall will eventually begin, but the automaker has no idea when. Cadillac dealers will replace both front brake hose assemblies, just as was done in the 2010 recall.
Owners of the 2004-2007 Cadillac CTS-V may contact Cadillac customer service at 800-458-8006 and give them recall number 15149.