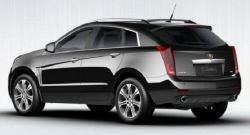 — General Motors is recalling it's 2015 Cadillac SRX to fix seats that can detach in a crash. GM says over 3,100 of the cars might have been built with the wrong driver's seat track bracket, which means the seat might be loose from the seat track.
Taking a sharp turn, making an unexpected stop or a crash could cause the seat to detach and make a mess of the driver. GM says the specific area of concern is the front outboard seat bracket and the hooks that hold the seat to the track.
The automaker says the recalled 2015 Cadillac SRX cars were built November 11, 2014, to December 3, 2014.
GM hasn't released information about when the recall will begin. However, GM dealers will need to replace any seat track hook brackets that might look like they could cause trouble. GM didn't say how long it will take a dealer to perform the repairs.
Owners of the recalled 2015 Cadillac SRX cars can contact Cadillac at 800-458-8006 and refer to recall number 14863.