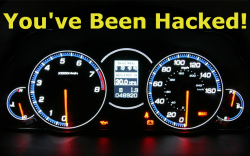 — Three of the largest automakers in the world have been sued for allegedly leaving their customers potential victims to car hackers. The lawsuit was filed just weeks after U.S. Senator Ed Markey (D-Mass.) released a report claiming car companies are failing against hackers.
The car hacking lawsuit, filed by lead plaintiffs Helene Cahen, Kerry J. Tompulis, and Merrill Nisam, alleges Ford, GM and Toyota vehicles contain flaws that allow hackers to control the cars from anywhere.
The plaintiffs claim the vehicles have over 35 separate electronic control units (ECU) that connect through a controller area network (CAN) that can allow hackers access to the inner workings of the cars. The lawsuit says a hacker could control braking, steering, acceleration, door locks and other features.
The lawsuit says the automakers have known the CAN-equipped vehicles are open to hackers and the ECU's can't detect the hacking activity. The electronic control units are networked together on one or more CAN buses used to transmit small amounts of data called CAN packets.
The lawsuit alleges the CAN standard is outdated and unable to support security features. Additionally, our cars are wireless machines on wheels that can allow malicious code to alter the interoperability of the cars.
The plaintiffs point to previous studies that said car owners are at the mercy of the car's computer code, including a 2013 study funded by the U.S. Defense Advanced Research Projects Agency.
In that study, two researchers connected a laptop to the CAN bus of a 2010 Toyota Prius and a 2010 Ford Escape. The researchers were able to control the engine, brakes and steering functions of the cars.
The hacking lawsuit accuses Ford, GM and Toyota of breach of contract, breach of warranties and violations of consumer protection laws
The Ford, GM and Toyota car hacking lawsuit was filed in the United States District Court, Northern District of California, San Francisco Division.
The plaintiffs are represented by the Stanley Law Group.