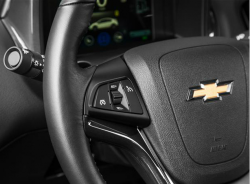 — A proposed class-action lawsuit alleges Chevy Volt steering problems are a dangerous safety issue that has been ignored by General Motors. The lawsuit alleges model year 2011-2014 Chevy Volts have steering wheels that can't be turned and leave drivers powerless to steer the cars.
"At any speed over 57mph, if you leave the steering wheel centered (such as on a long straightaway) the steering wheel will lock in that center position. It takes significant force to pull the car out of that center locked position. Chevrolet is aware of this issue, but has so far been un-willing to fix it in my vehicle (they will not send the part to the dealership)." - 2013 Chevy Volt owner - La Mesa, CA, USA
Plaintiffs Christopher Johnson and Tara Follari-Johnson claim their 2013 Chevy Volt experienced loose steering that caused the car to move all over the road at highway speeds. At other times, the steering wheel would stick while trying to control the car. The plaintiffs allege they took the car to dealerships numerous times but the steering problems continued.
The Chevy Volt steering lawsuit alleges GM dealers repair the cars but the repairs do nothing but cause more problems. The plaintiffs further claim GM uses repair procedures that are temporary so the cars will eventually need repairs after the warranty periods. Once outside the warranty period, any and all repairs are paid by Volt owners.
The lawsuit says GM ignored customer complaints about the steering problems because the automaker allegedly knew the steering defect existed from the beginning of production. Additionally, the plaintiffs say they would not have purchased the Chevy Volt if GM would have told consumers about the alleged steering defects.
The Volt lawsuit says the cars are not worth what they should be because of the steering problems, not to mention the safety hazard a locked steering wheel can cause on the road.
The Chevy Volt steering problems lawsuit was filed in the U.S. District Court for the District of New Jersey - Johnson and Follari-Johnson v. General Motors LLC.
The plaintiffs are represented Capstone Law APC, and Scarinci Hollenbeck LLC.