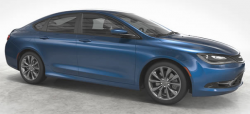 — Fiat Chrysler is recalling over 25,700 model year 2015 Chrysler 200 cars equipped with 9-speed transmissions.
Fiat Chrysler says in September 2014, a 2015 Chrysler 200 transmission was returned from a car that moved even though the car was in "park." The automaker determined contamination that prevented the engagement of the park pawl to the park guide.
Following two more transmissions that were returned after the cars moved while in park, Fiat Chrysler found those problems were caused by broken park rods. The broken park rods were traced to a manufacturing problem at the supplier after two more Chrysler 200 transmissions were returned.
The contamination or busted park rods could make the gear shifter look to be in park when the transmission isn't anywhere near park.
The recall will begin on April 10, 2015. Fiat Chrysler dealers will inspect the transmissions and based on what dealers see with the contamination or park rods, the entire transmission might have to be replaced.
Owners of the 2015 Chrysler 200 can contact Chrysler customer service at 800-853-1403 and give them recall number R08.