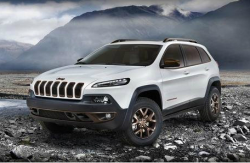 — FCA US (Fiat Chrysler) is recalling about 179,000 Ram 1500 trucks and Jeep Cherokee SUVs in two recalls, one to repair axle shaft problems and the other to prevent vehicle fires.
Jeep Cherokee
Chrysler is recalling about 93,000 model year 2015 Jeep Cherokees to fix air conditioning lines that could cause a fire.
The National Highway Traffic Safety Administration received two complaints about smoke and fire in the subject SUVs which caused FCA to open its own investigation. The automaker determined lines for the air conditioning may have been installed too close to the exhaust manifold and could cause a fire, although FCA isn't aware of any injuries or accidents.
About 75,364 of the Jeep Cherokee SUVs are located in the U.S., 7,571 in Canada, Mexico has 4,018 SUVs and 6,942 are outside the NAFTA region.
Chrysler hasn't said when the Cherokee recall will begin, but did say owners should be aware of any dashboard warning lights or problems with the air conditioner.
Owners of the 2015 Jeep Cherokee who have questions should call 800-853-1403.
Ram 1500
FCA is recalling about 86,000 model year 2015-2016 Ram 1500 trucks to repair or replace rear axle shafts or the rear axles.
Chrysler says an internal investigation found a supplier may not have applied proper heat treatment to the axle shafts. This can cause the axle shafts to wear faster than normal and possibly overheat enough to turn on the anti-lock brake system warning light. If repairs aren't made, the shaft can break and cause the wheel to separate.
Fiat Chrysler says about 65,760 of the recalled Ram 1500 trucks are in the U.S., with another 16,647 trucks in Canada, 1,924 in Mexico and 1,715 outside those areas.
FCA says the 2015-2016 Ram 1500 pickups were built between June and September of 2015. Although no injuries have been reported, the automaker believes one accident might have been caused by the axle shaft problems.
Chrysler says it's important to contact a dealer immediately if the anti-lock brake warning light activates.
The automaker doesn't know when the Ram 1500 truck recall will begin, but owners with questions can call 800-853-1403.
CarComplaints.com will update this page when additional details are available.
Read owner-reported complaints about the Ram 1500 trucks and Jeep Cherokee SUVs.