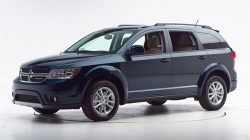 — Chrysler is recalling almost 560,000 SUVs in two separate recalls, one involving SUVs that were recalled in 2012 for the same problems.
Jeep Liberty and Jeep Grand Cherokee
Over 284,000 model year 2003 Jeep Liberty and 2004 Jeep Grand Cherokee SUVs have airbags that can deploy without need of a crash.
Jeep says too much electrical noise in the airbag electronic control module can cause a failure of a component inside the control module. The failure can cause the front and side airbags to deploy while driving but without a crash. In addition, the seat belt pretensioners will likely activate when the airbags deploy.
The recalled 2003 Jeep Libertys were manufactured March 29, 2003, to July 3, 2003, and the 2004 Jeep Grand Cherokee SUVs were built May 27, 2003, to May 20, 2004.
The Jeep recall was ordered after the National Highway Traffic Safety Administration opened a "recall query" to determine if Chrysler properly fixed the SUVs in a previous recall. The query, opened in June 2014, questioned if a 2012 recall of the Jeeps actually fixed the airbag problems.
The 2012 recall was ordered after NHTSA opened an investigation into the Jeep SUVs after customer complaints about the airbags deploying without cause. No crashes were reported, but some Jeep drivers suffered burns, cuts and bruises to the upper body.
In the 2012 recall, Jeep dealers installed an in-line jumper harness with an electrical filter for the air bag module. However, it was later learned six SUVs had airbags deploy without a crash, and all six had allegedly been repaired under the 2012 recall.
Jeep owners will receive an initial recall notice by the end of December 2015, but replacement airbag control modules and front/side airbag sensors won't be available until 2016.
Owners of the Jeep Liberty and Jeep Grand Cherokee SUVs can call 800-853-1403 and use recall number R60.
Dodge Journey
Chrysler says 275,614 model year 2012-2015 Dodge Journey SUVs could lose control because of water entering the anti-lock brake system module wiring harnesses. The water can then leak into the module itself and disable the anti-lock brakes or the electronic stability control system.
The Dodge Journey could be a pain to control if those systems fail while driving.
The recalled SUVs were manufactured April 21, 2012, to April 14, 2015.
As with the previous recall, Chrysler doesn't know when the Dodge Journey recall will begin. Dodge dealers will seal the wiring harness to keep water out, replace the anti-lock brake module and repair the headlight and dash wiring harness.
Owners of the 2012-2015 Dodge Journey SUVs may contact Chrysler at 800-853-1403. Chrysler's number for this recall is R61.