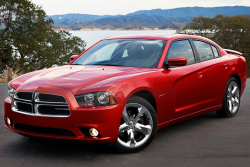 — Owners of Fiat Chrysler vehicles are quickly learning not to slam the doors on their cars and trucks. Days ago the automaker recalled 1.7 million trucks with airbags that could deploy without a crash. About 667,000 of those trucks have airbags that can deploy just by slamming the doors.
Add another 284,000 model year 2011-2014 Dodge Chargers to the list as the automaker says the curse of the sensitive sensors strikes again.
Chrysler first learned of the problem on May 7, 2015, when checking the side airbag inflatable curtains in Ram trucks. The automaker then opened an internal investigation into various vehicles after reviewing customer complaints about side airbags deploying without a crash.
Fiat Chrysler determined the problem is caused by an overly sensitive front door pressure sensor resulting in airbags deploying from simply slamming the doors shut. The affected airbags include the side airbag inflatable curtains and seat airbags. In addition, the seat belt pretensioners can activate.
Chrysler says the recalled 2011-2014 Dodge Chargers were built May 6, 2010, to June 5, 2014.
For owners who have paid to have the problem fixed, Fiat Chrysler will reimburse the cost with proof of payment made for repairs.
The automaker doesn't know when the recall will begin but said dealers will update the occupant restraint control module calibration.
If you own a 2011-2014 Dodge Charger and have questions about the recall, contact Fiat Chrysler at 800-853-1403 and refer to recall number R35.