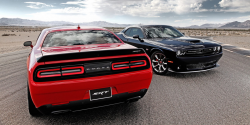 — Fiat Chrysler Automobiles (FCA) is recalling over 2,200 cars over the risk of fire from leaking gas hose seals. FCA says the recalled cars are the 2015 Dodge Challenger SRT and Dodge Charger SRT cars equipped with 6.2-liter V-8 engines.
The automaker said hose seals of the fuel delivery system can leak and cause gas to enter areas it was never meant to enter. Any fuel near an ignition source could cause a fire, but FCA said it is unaware of any accidents, injuries or complaints related to the leaking hose seals.
FCA says one of its dealers noticed a possible fuel leak and after an investigation by FCA, the automaker said certain hose seals were not installed correctly even though the supplier had previously tested the components.
The National Highway Traffic Safety Administration hasn't said when the Charger and Challenger recall will begin and FCA hasn't said what dealers will do to fix the problems.
Affected owners of the 2015 Dodge Challenger SRT and Dodge Charger SRT can call FCA customer service at 800-853-1403.
CarComplaints.com will update this page when more information is available.