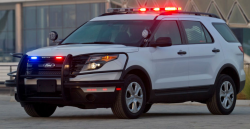 — The National Highway Traffic Safety Administration (NHTSA) won't ask Ford to recall its Ford Explorer police vehicles with brake hose failures.
Even though the brake hose failures were confined to Explorer police vehicles, NHTSA has to take the issue seriously. The alleged defects would not only affect police departments that depend on the SUVs, but many police vehicles are later retired and sold in the consumer marketplace.
NHTSA began looking at the problems based on 13 complaints about the 2013 Ford Explorer from one police department. The failed hoses were inspected and found to have small tears in the outer cover of the hose and splits in the inner liners. Further testing showed some of the hoses started leaking at 6,000 psi and it took a microscopic evaluation to determine the hoses could be damaged by being bent.
Ford said the damage likely occurred during improper service repair procedures where mechanics might have placed the brake caliper over the brake hose during brake pad replacement. However, NHTSA says the true cause of the damage might never be known.
NHTSA has closed the investigation by saying there is no known defects in the material of the hoses and no issues concerning the original manufacturing and installation.
However, NHTSA then says it isn't saying a safety defect doesn't exist and the agency will continue to monitor any future complaints.