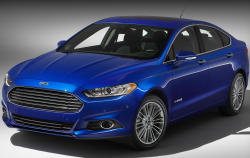 — Ford Fiesta door latch problems have turned into a fiasco as the automaker announced an expansion of a previous Ford Fiesta door latch recall.
Ford's problems started in September 2014, when the National Highway Traffic Safety Administration (NHTSA) opened an investigation into door latch failures in 205,000 model year 2011-2013 Ford Fiestas. Owners kept complaining about latch failures that caused the doors to fly open while driving.
The investigation was expanded in March 2015, when NHTSA included the Ford Fusion and Lincoln MKZ because they use the same door latch system. Then in April 2015, Ford recalled 390,000 of those cars to replace the door latches.
That recall is now expanded by 156,000 cars bringing the total to almost 546,000 cars recalled for door latch problems. The expanded recall includes the 2011-14 Ford Fiesta, 2013-14 Ford Fusion and 2013-14 Lincoln MKZ vehicles.
The entire door latch problem was traced to a busted pawl spring tab that can allow the car doors to open or cause a failure of the doors to close.
Ford knows of two incidents of doors bouncing back and striking people after they tried to close the doors, and one alleged accident caused by a door that opened while the car was moving.
NHTSA hasn't released information about when the door latch recall will begin, but Ford says dealers will replace all four door latches.
Read owner-reported complaints about the cars named in the door latch recall: