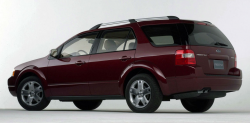 — A Ford Freestyle engine surge lawsuit might finally get its day in court as a class-action complaint.
Plaintiff Gene Edwards filed the lawsuit in 2011 alleging model year 2005-2007 Freestyle cars have defective electronic throttle control systems that Ford concealed from the public. The lawsuit alleges the defect can cause the Freestyle engine to surge when idling or can cause unintended acceleration in both drive and reverse.
In February 2012, the plaintiff filed a motion to certify a class-action lawsuit to include all affected Freestyle owners, but that motion was dismissed by a district court in June 2012. Mr. Edwards petitioned the Ninth Circuit Court of Appeals for permission to appeal the district court decision, a motion that was granted in October 2012.
Problems with engine surge and acceleration are nothing new, at least according to owners who have written to CarComplaints.com:
"Turned on the car with my foot on the brake. If the car is in reverse or drive it will lunge forward causing me to slam on the brakes. When I do this, the car will either die completely or it will go drive in snail mode, and the wrench light on the dash will come on. I can have it floored and the car will only go 5 mph. If I do get speed and take my foot off the gas, the car will lug down jerking the car in the process." - 2005 Ford Freestyle owner / Farmington Hills, Michigan
"I have a 2005 Ford Freestyle that has now started to lunge forward on its own ,while I have the brake applied. Today it almost caused me to jump into cross traffic and scared me to death. I no longer trust driving this car nor transporting my Grandchildren, or my family anywhere." - 2005 Ford Freestyle owner / Culbertson, Montana
After the lawsuit was filed, Ford extended the Freestyle warranty for idle surge repairs and offered refunds for repair costs previously paid out by owners.
In court, Ford said its extended warranty and refunds for repairs means a lawsuit isn't necessary, an argument the Ninth Circuit didn't buy. A three-judge panel has now ruled the case must go back to district court for another shot at class-action status.
The Ford Freestyle engine surge lawsuit is currently pending in the United States District Court for the Southern District of California - Edwards v. Ford Motor Company.
The plaintiff is represented by the Gibbs Law Group.
Read about engine problems as reported by owners of the Ford Freestyle model years named in the lawsuit: