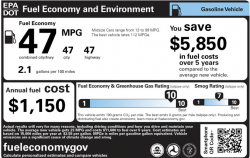 — A Ford Fusion Hybrid mpg lawsuit alleges Ford falsely advertised the fuel economy of its Fusion Hybrid. The proposed class-action lawsuit was filed by Dave DeLuca, who said his Ford Fusion Hybrid doesn't get anywhere near the gas mileage as advertised.
DeLuca said he noticed the Fusion didn't seem to be getting the mileage it should, so he took the car back to the dealership and told them about the decreased fuel economy. According to the lawsuit, DeLuca was told nothing could be done because nothing was wrong with the car.
Ford later allegedly updated the software on its Ford Fusion Hybrid cars for the purpose of raising the mpg and overall performance of the cars. The software update did seem to increase the mpg based on the instrument panel gauge, but DeLuca found the mileage readings were wrong.
DeLuca might be the guy who filed the Ford Fusion Hybrid mpg lawsuit, but other Fusion Hybrid owners haven't kept quiet about their own mileage problems.
"Much to like about my new 2015 Ford Fusion Titanium Hybrid, but MPG is not one of them. After consistently monitoring for several weeks, my MPG has never come near the 44/41 promised by Ford/EPA." - 2015 Ford Fusion Hybrid owner / McCleary, Washington
"When I bought the car the EPA was 47 on the Window. Ford sent me a check for $750 and adjusted the EPA at 42. Steadily my car has been losing mpg. Now below 35 and dealer has no answers." - 2014 Ford Fusion Hybrid owner / Canton, Georgia
"Advertised at 47 City/ 47 Highway! Actual 33.8 MPG on odometer. Calculated at 31.3 based on winter driving!" - 2013 Ford Fusion Hybrid owner / Turner, Maine
The lawsuit accuses Ford of falsely advertising two things: the mpg capabilities of the Fusion Hybrid and how the software update was supposed to increase the mpg but allegedly failed to do so.
The Ford Fusion Hybrid mpg lawsuit was filed in Los Angeles County Superior Court for the State of California - Dave DeLuca vs. Ford Motor Company.
The plaintiff is represented by Cohen McKeon LLP.