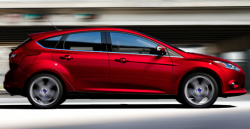 — A Ford power steering lawsuit will move forward after a federal judge let some charges stand against the automaker over defect claims about the 2010-2014 Ford Fusion and 2012-2014 Ford Focus.
Plaintiff William Philips claims the power steering is "prone to sudden and premature failure" that can could cause a driver to lose control.
The Ford power steering lawsuit says the automaker created the system to take some of the burden off the engine, but the plaintiff claims the system has defects in the ribbon cable, sensors and gear assembly. The power steering system is also allegedly made without a normal component typically used as a back-up.
U.S. District Judge Lucy Koh had dismissed the claims in March 2015, but gave the plaintiffs 30 days to amend their complaint.
The judge has again dismissed some of the claims but will allow the class-action lawsuit to proceed after denying Ford's motion to dismiss all the charges.
The judge said Ford's claims about the statute of limitations expiring didn't apply because owners had no reason to suspect problems before they actually occurred. In addition, the judge gave the green light to plaintiff claims of fraudulent concealment and damages related to the Consumer Legal Remedies Act.
The plaintiff claims customers would have never purchased the affected Focus and Fusion cars if Ford would have admitted the steering systems had problems.
The Ford power steering lawsuit was filed in the U.S. District for the Northern District of California - William Philips, et al v. Ford Motor Company.