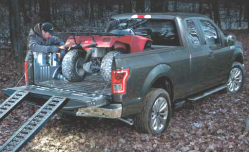 — For the second time in about two weeks, Ford is recalling its 2015 Ford F-150, in this case a recall of about 12,300 of the popular trucks.
Ford says the 2015 Ford F-150 trucks could lose all steering control because an upper I-shaft wasn't riveted properly at the assembly plant. The loose or missing rivets could cause the I-shaft to separate and leave a driver with no warning before the loss of steering control.
The F-150 recall involves only certain trucks built at two assembly plants. Some of the trucks were built at the Kansas City assembly plant from March 19, 2015, to March 21, 2015, and the remaining trucks were manufactured at the Dearborn truck plant from March 21, 2015, to March 30, 2015.
Ford says about 6,700 are still at dealerships and will be repaired before being sold, which leaves about 5,600 model year 2015 Ford F-150 trucks on the roads today. The automaker says most (8,963) of the trucks are in the U.S. and federalized territories, 3,348 are in Canada and 17 are in Mexico.
The automaker says it knows of one incident where steering control was lost, but no accident or injury reports have been received.
Ford dealers will inspect the upper I-shaft assembly and replace it if necessary, although the National Highway Traffic Safety Administration hasn't released a recall schedule.
Owners of the 2015 Ford F-150 can call the automaker at 866-436-7332.
On April 29, 2015, Ford recalled a small number of 2015 F-150 trucks that could catch on fire. As in the case of the I-shaft recall, the previous F-150 recall was caused by problems at the assembly plant.
File a complaint about your Ford vehicle or read complaints about numerous models of Ford vehicles, including the Ford F-150.