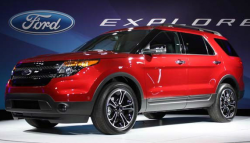 — Ford has announced three recalls that affect over 221,000 vehicles, most of those the Ford Explorer and police vehicles.
Ford Explorer and Ford Police Interceptor
About 213,000 model year 2011-2013 Ford Explorer and Ford police interceptor utility vehicles are recalled because the doors can open in a side-impact crash.
Ford says the problem was traced to a spring that controls the interior door handles. The automaker says the spring can move out of its intended location and a crash to the side of the vehicle can unlatch the door. Although it's a serious issue, Ford says it's not aware of any accidents or injuries related to the defective springs.
The recalled Ford Explorers and police vehicles were built during the following dates: Feb. 1, 2011, through Jan. 31, 2012, June 1, 2012, to June 30, 2012, and Oct. 1, 2012, to Nov. 30, 2012.
The National Highway Traffic Safety Administration hasn't said when the recall will begin. Ford said its dealers will inspect all four interior door handle assemblies and repair or replace the handles if needed.
Lincoln MKT (Limo and Hearse)
About 1,725 model year 2013-2015 Lincoln MKT limo and hearse vehicles are in danger of catching fire because of problems with the vacuum pump relay. Ford knows of two underhood fires related to the pump relay, but the fires caused no injuries or accidents.
The recalled MKTs were built March 6, 2012, through March 4, 2015.
A recall schedule hasn't been announced. Ford says dealers will replace the vacuum pump relay and any associated wiring.
Ford F-Series Super Duty (Ambulance and Emergency Vehicles)
Ford is recalling 6,500 emergency vehicles to fix problems with the exhaust gas temperature sensors. The affected vehicles are the 2011-2013 Ford F-Series Super Duty ambulance and 2014-2015 Ford F-Series Super Duty ambulance and emergency vehicles with 6.7-liter diesel engines.
All Ford is saying right now is the sensors don't function as intended and can incorrectly identify a high temperature condition when none exists.
The automaker says it's unaware of any accidents or injuries caused by the defective sensors, meaning no personnel or medical patients have been harmed.
Ford says the recalled F-Series vehicles were manufactured during a five-year period, Feb. 22, 2010, to Feb. 1, 2015.
Ford says a simple software update should fix the sensor problems, but as with the other recalls, the automaker hasn't said when the ambulance and emergency vehicle recall will begin.
If you have questions or comments, contact Ford customer service at 866-436-7332.