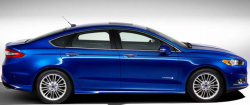 — Following an investigation into door latch failures in Ford Fiesta small cars and later expanded to include the Fusion and Lincoln MKZ, Ford is recalling about 390,000 of those cars to replace the door latches.
Ford says the affected model years are the 2012-2014 Ford Fiesta, 2013-2014 Ford Fusion and 2013-2014 Lincoln MKZ.
About 336,873 of the recalled cars are in the U.S. and federalized territories, 30,198 are located in Canada and 22,514 in Mexico.
The automaker says the vehicles have pawl spring tabs that can break and cause latch failures. A broken latch can mean a door that opens any time it wants, including while driving.
When the National Highway Traffic Safety Administration (NHTSA) opened the original investigation in September 2014, there were 61 complaints about door latch failures in model year 2011-2013 Fiestas.
By the time the investigation was expanded in March 2015, there were 451 complaints filed directly with Ford, 207 reports filed with NHTSA and 65 of the NHTSA complaints said the doors opened while the cars were moving.
The Ford Fusion and Lincoln MKZ were included in the investigation because those cars use the same latch system as the Fiesta.
Ford said it's aware of one alleged accident caused by an unlatched door that swung open and struck another vehicle. Further, the automaker says two claims involve doors that bounced back and hit people after the doors were pushed shut.
NHTSA hasn't released details of when the door latch recall will begin, but Ford says dealers will need to replace all four door latches.
Read owner-reported complaints about the cars named in the door latch recall: