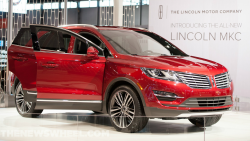 — Ford is recalling over 25,000 SUVs under two separate recalls for two different defects.
Lincoln MKC
Considering the millions of vehicles recalled in 2014 for ignition switch problems, many people have theorized a push-button start feature would solve all the problems with engines shutting off by mistake. Not exactly, as Ford's recall of about 13,500 model year 2015 Lincoln MKC shows.
Ford says the Lincoln MKC SUVs have a small problem with the push-button keyless ignition switches. Ford has learned the push-button switch is too close to other controls and it's causing people to accidentally hit the ignition button which shuts off the SUV.
Once the button is pushed and the engine is dead, all electrical components are lost, including the airbags. Ford says it's unaware of any accidents or injuries related to the location of the ignition button.
The automaker says the recalled Lincoln MKC SUVs were manufactured August 20, 2013 to September 9, 2014, at the Louisville assembly plant.
Ford hasn't said when the recall will begin but dealers will eventually replace the gearshift module with one that has the push-button ignition switch in a different location. Ford dealers will also need to reprogram the powertrain control module.
Ford Escape and Lincoln MKC
Ford is recalling over 12,200 model year 2014 Ford Escape and 2015 Lincoln MKC SUVs to fix fuel pump problems. Ford says there's a problem with the nickel plating on the fuel pump that can cause the pump to seize. A seized fuel pump means no gas to the engine and a failure of the SUV to start, or the vehicle could stall in the middle of a busy road.
As dangerous a condition that it is, Ford says no accidents or injuries have been reported related to the defective fuel pumps.
Ford says the recalled 2014 Ford Escapes were built April 15, 2014, to May 8, 2014, and the 2015 Lincoln MKC SUVs were built April 21, 2014, to May 15, 2014.
Ford will replace the fuel delivery module, but the automaker hasn't said when that will happen.