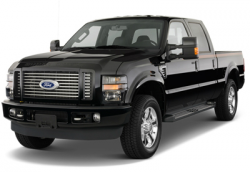 — Ford is recalling 538 model year 2008-2010 Ford F-250 and F-350 Super Duty trucks that had their steering gears replaced.
The automaker says the steering gear mounting flange wasn't installed correctly against the frame of the truck. The misplaced mounting flange can cause the steering gear bolts to weaken or break over time.
While broken bolts can cause serious steering problems, Ford say it is unaware of any accidents or injuries related to the defect.
Ford believes the replacement steering gears were installed on about 350 F-250 and F-350 trucks in the U.S. and another 163 trucks located in Canada and Mexico. All the trucks are equipped with 6.4-liter diesel engines.
Ford hasn't said when the recall will begin, but dealers are expected to replace the bolts and install spacers between the steering gear and truck frame.
CarComplaints.com will update this page when Ford releases additional recall information.