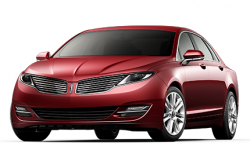 — Ford Motor Company is recalling 593,000 vehicles in four different recalls, the largest that will see 520,000 cars called back to repair dangerous steering problems.
Ford Fusion, Edge, Lincoln MKZ
About 520,000 model year 2013-15 Ford Fusion, Lincoln MKZ and 2015 Ford Edge cars have steering gear bolts that can break due to corrosion.
The broken attachment bolts can cause an immediate loss of power steering and make it a pain to steer at slow speeds or around curves. Ford says a total loss of steering won't occur because the manual steering will remain.
The recall will work in two ways, based on where the cars are located. One group of customers will automatically have the bolts replaced, while another group will receive an extended warranty to cover repairs.
Ford dealers will replace steering gear motor attachment bolts on customer vehicles with new bolts, seal them, and replace damaged steering gears for cars originally sold in, or are currently registered in:
Connecticut, Delaware, District of Columbia, Illinois, Indiana, Iowa, Maine, Maryland, Massachusetts, Michigan, Minnesota, Missouri, New Hampshire, New Jersey, New York, Ohio, Pennsylvania, Rhode Island, Vermont, West Virginia and Wisconsin.
Also included are the Canadian provinces of Ontario, Quebec, Prince Edward Island, Newfoundland and Labrador, Nova Scotia and New Brunswick.
Ford owners located in other states or provinces will be covered by an extended warranty for the bolt problems.
Ford Edge, Escape, Fiesta, Focus, Transit Connect
Count Ford among the victims of defective fuel pumps made by Bosch that have caused previous recalls of vehicles manufactured by BMW, Nissan and Volkswagen.
Ford says about 50,000 vehicles have Bosch fuel pumps that can seize due to nickel plating particles affecting the fuel pump components. The automaker names the vehicles as the 2014 Ford Focus, Edge, Escape, Transit Connect and the 2014-15 Ford Fiesta.
Ford says one accident has been reported from the fuel pump failing, but the automaker didn't say if any injuries have been linked to the pumps.
The recalled Ford Focus cars were built October 26, 2013, through May 22, 2014, Ford Edge vehicles were built April 30, 2014, to May 21, 2014, the Ford Escape SUVs were manufactured February 14, 2014, to March 7, 2014, Ford Transit Connect vehicles were built November 11, 2013, to August 29, 2014, and the Ford Fiesta cars were built April 10, 2014, to June 17, 2014.
Ford says its dealers will replace the fuel delivery modules.
Lincoln MKZ
About 22,600 model year 2015 Lincoln MKZ cars need repairs for a simple problem with the parking lights. Ford says when the headlights are on, the parking lights are too bright and violate federal regulations. Ford is concerned the lights might be too bright for oncoming drivers.
The recalled Lincoln MKZ cars were built February 17, 2014, to March 19, 2015. About 21,435 of the affected cars are in the U.S., 1,066 are in Canada and 115 in Mexico.
Ford dealers will update the body control module software so the parking lights meet federal regulations for brightness.
Ford F-150
About 91 model year 2015 Ford F-150 trucks are at risk of fire because heat shields might be missing or installed improperly under the trucks. The underbody heat shields should have been installed on the trucks during a one-day period, January 30, 2015, to January 31, 2015.
Ford dealers will need to inspect the areas for missing underbody heat shields and fasteners, then install any missing components.
Ford hasn't announced when any of the recalls will begin. Owners with questions should call the automaker at 866-436-7332.
Read owner-reported complaints about the Ford vehicles listed in the recalls: