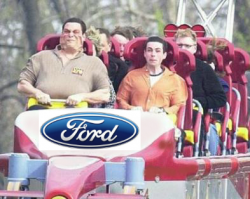 — A Ford unintended acceleration lawsuit alleges a 2000 Ford Explorer experienced sudden unintended acceleration from a defective speed control switch.
The lawsuit alleges on or about March 1, 2013, Ernest Jackson was traveling about 55 mph in his 2000 Ford Explorer with the cruise control feature activated. Jackson says the Explorer started to accelerate on its own without warning, which caused him to hit the brakes followed by the emergency brake, all to no avail.
The plaintiff says he lost control of the Explorer and held on while the SUV went off the road, came back onto the road, traveled across two lanes of traffic, struck two trees and finally landed in a ditch.
Speed Control Activation Switch Problem?
Jackson says he believed at the time the crash was just a random accident based on the performance of the Ford Explorer. All that changed in July 2014, when the plaintiff received a letter from Ford which said a recall had been issued regarding the speed control deactivation switch. Jackson claims this was the first time he learned about the faulty switches.
The Ford unintended acceleration lawsuit says Jackson's crash and injuries were caused solely by Ford and its neglect in warning owners about the problems. Claiming Ford manufactured a vehicle which is "unreasonably dangerous in construction or composition when used in a reasonably anticipated manner," the lawsuit seeks restitution for injuries suffered.
According to court documents, Jackson suffered head trauma, a back injury, loss of vision in his right eye and other serious injuries.
Not the First Unintended Acceleration Lawsuit
This isn't the first lawsuit that accuses Ford of selling vehicles prone to unintended acceleration. The automaker was sued in 2013 in a class-action case involving customers in at least 14 states. Although a federal judge dismissed some of the claims, the lawsuit is moving forward based on allegations customers paid too much for defective vehicles.
The Ford unintended acceleration lawsuit was filed in the U.S. District Court for the Western District of Louisiana, Monroe Division - Ernest R. Jackson v. Ford Motor Company.