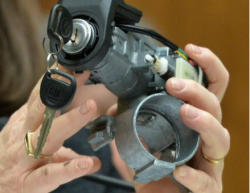 — General Motors has approved 90 death claims related to defective ignition switches that can shut off from a simple bump in the road.
GM opened the ignition switch compensation fund with $400 million and another $200 million in reserve if needed. As the automaker was overwhelmed by hundreds of lawsuits related to the switches, GM created the fund to keep some cases out of court. Accepting a settlement from the fund means waiving the right to sue GM for the defective switch.
With over 1,000 claims still under review, GM won't have to be as picky about who is rejected considering a federal judge ruled the automaker can't be held liable for its actions prior to July 2009. That's the date GM emerged from bankruptcy after receiving a $49.5 billion loan from the U.S. government. The bankruptcy agreement stipulated "New GM" couldn't be held responsible for the actions of "Old GM."
The court decision effectively means most customers who sued GM now won't have a leg to stand on in court. It also means less of an incentive for GM to pay compensation to alleged victims because GM knows those victims can't sue.
Death Claims
Total Death Claims: 475
Eligible: 90
Ineligible: 193
Deficient: 123
Under Review: 46
Submitted With No Documentation: 23
Category One Injury Claims (Quadriplegia, paraplegia, double amputation, permanent brain damage and serious burns)
Total Category One Injury Claims: 289
Eligible: 11
Ineligible: 123
Deficient: 54
Under Review: 79
Submitted With No Documentation: 22
Category Two Injury Claims (Injuries that required medical treatment within 48 hours of the accident)
Total Category Two Injury Claims: 3,578
Eligible: 152
Ineligible: 1104
Deficient: 1004
Under Review: 872
Submitted With No Documentation: 446
Total Death and Injury Claims: 4,342
Eligible: 253
Ineligible: 1420
Deficient: 1181
Under Review: 997
Submitted With No Documentation: 491
(Data accurate as of April 24, 2015.)