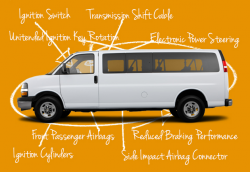 — As General Motors continues to evaluate death and injury claims submitted to its ignition switch compensation fund, many GM owners have skipped applying to the fund and instead filed lawsuits.
A Texas lawsuit is the latest such lawsuit to accuse GM of selling 15 million vehicles with deadly ignition switch defects. However, the lawsuit also accuses GM of numerous other failures related to everything from airbags to the power steering systems.
The ignition switch lawsuit alleges GM kept quiet for 13 years as its own engineers were reporting problems with the ignition switches that could accidentally turn off if bumped by the driver's knee. Once the ignition switch is off, all electrical power is lost to the car and a driver will lose all power steering and power brakes.
The switches have been linked to at least 56 deaths because once the car is shut off, the airbags won't deploy in a crash.
These same ignition switches have caused millions of GM vehicles to be recalled while GM management faced tough questions at congressional hearings.
While the number of ignition switch lawsuits exploded, GM created a compensation fund to reimburse those directly affected by the faulty switches. The fund has helped decrease the number of potential lawsuits by offering money to owners or family members in exchange for not suing the automaker.
The compensation fund has also allowed people to apply for payment even though they might not have much of a case if they sued GM. Those people are owners who were drinking or speeding when an accident occurred, two things that could certainly be a detriment to winning a lawsuit against GM.
What makes the most recent ignition switch lawsuit a little different is the number of vehicles included based on alleged defects not related to ignition switches.
Documents filed in the case do not indicate how many vehicles are included in the GM lawsuit, but the complaint names the following vehicles and the alleged defects associated with the vehicles.
Ignition Switch Torque Performance
2005-07 Chevrolet Cobalt
2006-07 Pontiac Pursuit
2003-07 Saturn ION
2006-07 Chevrolet HHR and Pontiac Solstice
2007 Saturn Sky, Opel/Vauxhall GT, Daewoo G2X and Pontiac G5
2008-11 Chevrolet HHR
2008-10 Chevrolet Cobalt
2008-10 Pontiac G5
2008-10 Pontiac Solstice; 2008-10 Saturn Sky; 2008-10 Opel GT; 2008-09 Daewoo G2X
Front Passenger Airbags
2009-14 Chevrolet Express and GMC Savana
Side Impact Airbag Connector
2008-13 Buick Enclave, Chevrolet Traverse, GMC Acadia, Saturn Outlook
Electronic Power Steering
2004-06 Chevrolet Malibu/Malibu Maxx, Pontiac G6
2004-07 Saturn ION
2008-09 Chevrolet Malibu, Pontiac G6, Saturn Aura
2010 Cobalt
2009-10 Chevrolet HHR and previous power steering recall service parts
2014 Chevrolet Impala
Ignition Cylinders
2005-10 Chevrolet Cobalt
2006-11 Chevrolet HHR
2006-10 Pontiac Solstice
2003-07 Saturn ION
2007-10 Saturn Sky and Pontiac G5
Passenger Airbags
Key FOB Can Bump Ignition Switch
Key Replacement From Slot-to-Hole Design
2005-09 Buick Allure and LaCrosse
2006-14 Chevrolet Impala
2000-05 Cadillac Deville
2004-11 Cadillac DTS
2006-11 Buick Lucerne
2006-07 Chevrolet Monte Carlo
Defective Airbags
2014 Chevrolet Corvette with Competition Sport Seats
2013-14 Chevrolet Cruze Driver
Unintended Ignition Key Rotation
2003-14 Cadillac CTS
2004-06 Cadillac SRX
1997-2005 Chevrolet Malibu
1998-2002 Oldsmobile Intrigue
1999-2004 Oldsmobile Alero
1999-2005 Pontiac Grand Am
2000- 05 Chevrolet Impala and Monte Carlo
2004- 08 Pontiac Grand Prix
2008-09 Pontiac G8
2011-13 Chevrolet Caprice
Reduced Brake Performance
2007 Chevrolet Optra (Canada)
2009-10 Chevrolet Aveo
2009 Pontiac G3/Wave
Ignition Key Pullout in Run Position
Transmission Shift Cable Detachment
2007-10 Saturn Aura
2008-10 Chevrolet Malibu and Pontiac G6
Electronic Stability Control
2004-12 Chevrolet Malibu
2004-07 Chevrolet Malibu Maxx
2005-10 Pontiac G6
2007-10 Saturn Aura
Ignition Binding
2011-2012 Cadillac Escalade, Escalade ESV, Escalade EXT, Chevrolet Avalanche, Silverado HD, Silverado LD, Suburban, Tahoe, GMC Sierra LD, Sierra HD, Yukon, and Yukon XL
The General Motors lawsuit was filed in the U.S. District Court for the Southern District of Texas, Houston Division - Paul Bermudez, et. al. v. General Motors, LLC.
The plaintiffs are represented by Bailey Peavy Bailey.
Read what owners say about the vehicles listed in the GM lawsuit:
Buick Problems
Cadillac Problems
Chevy Problems
GMC Problems
Oldsmobile Problems
Pontiac Problems
Saturn Problems