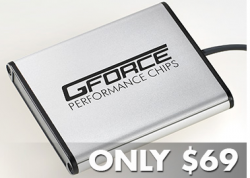 — The GForce Performance Chip is marketed and sold as a way to improve the performance of your car, but the state of California says it's all a sham. California has sued Ravi Ghataode, the owner of Gold Star Auto Sound and the creator of the GForce Performance Chip.
The lawsuit alleges Ghataode made at least $15 million selling $69 GForce Performance Chips to more than 300,000 consumers who were "duped" into buying the so-called chip. California prosecutors say the GForce marketing campaign is nothing but "lies and deceit" used to convince consumers to throw away $69 for nothing.
The GForce Performance Chip has been sold as an aftermarket device which claims it could increase gas mileage by 4 to 7 mpg, reduce emissions by 25 to 40 percent and add 60 horsepower to a car.
(Originally advertised as improving horsepower by up to 60 HP, now advertised as up to 30 HP)
According to California authorities, the GForce Performance Chip does nothing because the device contains no software and is not a "performance chip" at all. Once you crack the device open, you see a simple resistor with nothing engineered for a car. The chip contains only a simple circuit board that has never been tested or shown to improve the performance of anything.
Who is Ravi Ghataode? (AKA Terry McCauley, Robert Ghataode and Robert Jones)
It's not the first time Ravi Ghataode has faced the legal wrath of California prosecutors. From approximately 2005 until 2011, Ghataode operated Gold Star Auto Sound, Inc. under various business names, including "Gold Star Audio," "Gold Star Audio Sound, Inc.," "Dealer Cost Audio," "Indo Audio," and a suspended corporation called "National Audio Center."
His business offered consumers audio equipment at discount prices, but California prosecutors got involved after numerous complaints were filed against Gold Star Auto Sound, Inc., dba Dealer Cost Audio. Those complaints alleged the company never sent the products that were paid for and the consumers never received refunds when requested.
Instead, Ghataode's company sent false refund confirmation numbers and lied to customers by claiming their credit cards had been refunded. Further, customers complained the Gold Star Auto Sound website advertised products that were never in stock and weren't sold at the quoted price.
In 2011, Ravi Ghataode was prosecuted and fined $200,000 by the Orange County District Attorney's Office for engaging in unlawful, deceptive and fraudulent business practices. Ghataode was ordered to stop making false and misleading statements to consumers and to stop violating state laws.
The GForce Performance Chip is Born
Instead, Ghataode ignored the court order and with an associate named Max Cudich, Ghataode continued his illegal practices under the following business names:
Gold Star Auto Sound, Inc., Ivar Manufacturing, Inc., Gold Star Audio, GS Car Audio, Dealer Cost Car Audio as well as several unlicensed names including GForce, GForce Chips, GForce Performance Chips and GFchips.
In addition to the fake business names, the lawsuit alleges Ravi Ghataode uses the fake names of "Terry McCauley," "Robert Ghataode" and "Robert Jones" for the business dealings of GForce Performance Chips.
California authorities also accuse Ghataode of selling the GForce Performance Chips using website marketing "wrought with fraud and deceit." The lawsuit claims the GForce website is nothing more than lies about the company and the engineering of the GForce Performance Chip.
The site includes pictures of office buildings where the chip is allegedly manufactured by 27 employees, six of those employees experienced electrical and mechanical engineers. The problem? The pictures of the GForce office buildings are fake. The business address is actually a post office box in Irvine, Calif.
As for employees, the lawsuit says the company does not employ 27 people and there are no engineers creating the GForce Performance Chips. The device is manufactured by four workers who are paid in cash for their assembly work.
The lawsuit also says testimonials on the website cannot be verified and are at best false and misleading, and at worst complete fabrications. Other false statements that have appeared on the GForce site include that the website is "protected by U.S. and International Copyright laws," the company was "founded in 1998" and the false claim the founder's name is "Simon J. Bruce."
Prosecutors allege the website further lays out an elaborate hoax to make it appear the GForce Performance Chip is crafted specifically for your vehicle. Even though the "chip" contains no software whatsoever, the website says the chip you order is "specifically programmed and loaded with software for your specific vehicle."
Each customer is asked to input the year, make, model and engine size of their car to make it appear each performance chip is custom-made for each customer. In fact and truth, every GForce Performance Chip is the same nicely-packaged no-software corpse.
And what about claims the GForce Performance Chip can increase gas mileage by 4 to 7 mpg, reduce emissions by 25 to 40 percent and add 60 horsepower to a car? Complete nonsense.
No major automaker has been able to create a product that will do what the GForce Performance Chip claims to do, even though automakers have a massive amount of resources for research and development and plenty of qualified engineers to work on the product.
CarComplaints.com contacted GForce by phone, email and through a chat feature on its website, but no one from the company responded to our requests for comment.
If you purchased a GForce Performance Chip, contact the Orange County District Attorney's office at 714-834-6553.
The lawsuit was filed in the Superior Court of the State of California for the County of Orange - The People of the State of California vs. Gold Star Auto Sound, Inc., (dba "GForce," "GForce Chips," "GForce Performance Chips," "GFchips," "Gold Star Audio," "GS Car Audio," "Dealer Cost Car,") Ivar Manufacturing, Inc. and Ravi Ghataode.
Update: Ravi Ghataode agrees to pay $400,000 for running scam
Ravi Ghataode and his GForce Performance Chip business have lost their horsepower after being charged with ripping off $15 million from consumers. Ghataode settled the charges by agreeing to shut down the GForce Chip business, agreeing to pay $400,000 in civil penalties and agreeing to reimburse buyers who complained.