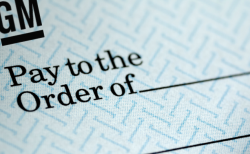 — General Motors has approved payments to families and loved ones of 56 people who died in GM cars with ignition switches that can turn off from a simple bump in the road. GM knew of the defective switches for over 10 years and quietly ignored reports of cars that would shut down and lose all power on the roads.
Among the lawsuits, investigations and recalls of millions of vehicles, the automaker opened a compensation fund for those affected by the ignition switches. The fund was opened with $400 million on August 1, 2014, and after an initial end-of-the-year deadline, the claim submission period was extended until January 31, 2015.
Family members of those killed in GM cars are eligible for at least $1 million and the spouse or dependent of a deceased victim will qualify for an additional $300,000. Accepting money from GM means waiving the right to sue the automaker over the faulty ignition switch.
GM Ignition Switch Deaths and Injuries
The number of approved death claims has grown from 13 a year ago to 56 as of February 13, 2015. With 165 death claims still under review, GM says 478 total death claims have been filed with 56 approved for payment. The automaker says 79 claims are "ineligible," 105 are "deficient" and 73 death claims were filed with no supporting documentation.
Injury claims are separated into categories. Category one injuries include quadriplegia, paraplegia, double amputation, permanent brain damage and serious burns. Category two injuries are those that required medical treatment within 48 hours of the accident.
As of February 13, GM has received 3834 injury claims, 288 for category one injuries and 3,546 claims for category two injuries.
The automaker says out of the 288 severe injury claims, nine have been deemed approved, 62 ineligible, 37 deficient, 72 claims were submitted without supporting documentation and 108 category one claims are still under review.
Out of 3,834 category two claims, 78 have been approved for payments, 372 have been thrown in the ineligible basket, 928 were called deficient, 1,053 were submitted without any documentation and 1,115 are still under review.
Although the deadline to file a claim has expired, there is no indication how long it will take to complete the review of the 1,338 remaining death and injury claims.