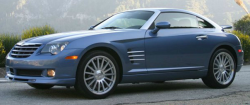 — The National Highway Traffic Safety Administration (NHTSA) has finally decided to examine if Chrysler did enough when it extended a back glass warranty on about 15,000 Chrysler Crossfire convertibles.
In September 2011, Chrysler extended the coverage after Crossfire owners complained about the top back glass falling out of the convertible cars.
The warranty was extended to 10 years or 100,000 miles for the adhesion of the back glass to the cars, but only for cars sent to dealerships in the following states: Alabama, Florida, Georgia, Louisiana, Missouri, North Carolina, South Carolina, Tennessee, and Texas.
Without explaining why it took so long, NHTSA said they are just now getting to a petition filed by the owner of a 2005 Chrysler Crossfire. The petition was filed with the government on June 25, 2014, by an owner who said their back glass fell out but Chrysler said it wasn't covered under the extended warranty.
NHTSA says it's received about 160 complaints about the problem, and CarComplaints.com has received its fair share as well.
"There was absolutely no warning. Drove the car one day, went out the next morning and the window was hanging detached from the cloth top. I spent many years in aerospace design.....glad our missiles aren't designed so poorly!" - 2005 Chrysler Crossfire owner / Appomattox, Virginia
"My back window fell out also of my convertible crossfire. What a CHEAP way of producing such a nice ideal of a car!" - 2005 Chrysler Crossfire owner / Claremore, Oklahoma
"My 2005 Crossfire has less than 70,000 miles and the back window is falling out. Dealership will not take care of the problem. Chrysler has extended warranty bulletin #23-035-11 extends warranty for 10 years or 100,000 miles on 2005 rear window but will not cover my vehicle." - 2005 Chrysler Crossfire owner / Harrodsburg, Kentucky
NHTSA is only evaluating the petition to determine if an investigation or any further actions should be taken. CarComplaints.com will update you with any future developments.