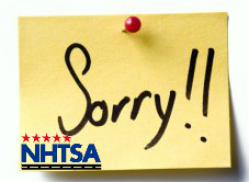 — For the second time in a little over a year, the National Highway Traffic Safety Administration (NHTSA) has let Fiat Chrysler off the hook concerning stalling engines.
In September 2014, NHTSA opened an investigation into 160,000 model year 2007 Dodge Grand Caravans after hundreds of complaints about stalling engines.
At that time, NHTSA said it would also include any Fiat Chrysler minivans equipped with similar fuel tanks and systems as that found in the 2007 Dodge Grand Caravan. That decision increased the number of minivans to about 1.8 million to include the 2003-2007 Dodge Grand Caravan, Dodge Caravan, Chrysler Town and Country and Chrysler Voyager.
Hundreds of owners complained the minivans stalled without warning after putting gas in the tanks. Owners also said the only way to fix the problem was to replace the gas tank.
Chrysler says the problem is a swollen refueling float within the multifunction control valve which can cause the engine to stumble and stall because fuel, rather than vapor, enters the engine intake system.
NHTSA analyzed 720 post-refueling engine stall incidents, field data and technical data related to the 1.8 million minivans. The agency concluded the failure rate is low, even after eight to 13 years of the minivans being on the roads. Furthermore, there were no reports of crashes or injuries resulting from the stall condition.
Safety regulators have closed the investigation without any further action, partly because NHTSA is busy with too many other things.
"In the Agency's view, additional investigation is unlikely to result in finding the existence of a safety-related defect in the subject vehicles. Given the need to allocate and prioritize NHTSA's limited resources to best accomplish the Agency's safety mission, the petition is denied." - NHTSA
And then comes the part about why the investigation was opened in the first place. Most people assume a safety investigation is opened to verify a safety defect does not exist, but this thinking doesn't apply here.
"This action does not constitute a finding by NHTSA that a safety-related defect does not exist."
A similar situation played out with an investigation of 192,000 model year 2006 Chrysler 300C, Dodge Charger and Magnum cars. NHTSA closed the investigation without further action after Chrysler made changes to the float system and extended the warranty period to lifetime coverage on 19-gallon fuel tanks.