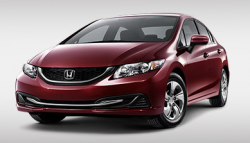 — Honda is recalling over 143,000 Civic and Fit cars to fix transmission software problems that can cause the front wheels to lock while driving. Affected cars include the 2014-2015 Honda Civic and 2015 Honda Fit, both which use a continuously variable transmission with software that can damage the transmission drive pulley shaft.
In July 2014, Honda learned about a broken drive pulley shaft and a later investigation showed a fatigue fracture and a black stain on the shaft caused by anti-corrosion oil. Then in July 2015, Honda received word from Canada about front wheels locking while the car was moving.
The automaker studied the electronic control unit concerning the stress being applied to the shaft. The investigation looked at software specifications in comparison with driving conditions outside the U.S. and it was determined a safety defect exists.
As of September 3, 2015, Honda has received 23 warranty claims but no injury reports.
Honda says the continuously variable transmission software is written to use high hydraulic pressure that can put high stress on the drive pulley shaft. In addition, the automaker says it's possible certain parts of the drive pulley shaft may have been manufactured at the low end of the hardness specification.
The high pressure combined with the weak shaft components can cause the drive pulley shaft to break. Once broken, the vehicle will lose acceleration or the front wheels will lock up while driving.
The Honda transmission software recall is scheduled to begin October 16, 2015. Honda dealers will update the continuously variable transmission software, but owners who have questions can contact Honda at 888-234-2138 and use recall numbers JU2 for the Honda Civic and JU3 for the Honda Fit.
Read owner-reported complaints about the Honda Civic, the Honda Fit and many other Honda vehicles.