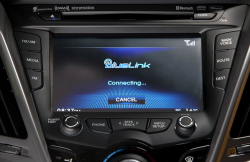 — A Hyundai Blue Link lawsuit alleges the automaker failed to inform owners the telematics system will be disabled if inactive for more than one year, and to reactivate the system an owner will allegedly be forced to change hardware at a minimum cost of $500.
Plaintiff Guy Coss owns a 2012 Hyundai Sonata Hybrid he purchased from a dealership in the state of Washington, on February 8, 2012. Coss says the car included the Blue Link telematics system and a free trial of the system that would expire in one year.
The Hyundai Blue Link telematics system combines global position satellite tracking and other wireless communications for automatic roadside assistance and remote diagnostics.
The Blue Link lawsuit says Hyundai began offering the feature in certain models of 2012 vehicles, one of those cars the popular Sonata. All necessary hardware for the Blue Link system is a standard feature included in the sale price of any Hyundai vehicle with the system.
Hyundai owners were told they would be charged for the service after a trial period, and if the subscription expired, the service could be reactivated at any time for a small connection fee. This meant it wasn't a huge ordeal to reactivate the Blue Link system if an owner sold the car to a buyer who wanted the system back and working.
The plaintiff claims on or about January 7, 2015, Hyundai notified owners of its Blue Link vehicles whose Blue Link subscriptions had been inactive for more than one year. Hyundai told owners, "If you do not reactivate your Blue Link services by January 28, 2015, your current Blue Link system in your vehicle will be permanently disabled."
Hyundai told owners the service could be reactivated, but the hardware would need to be changed and installed by a Hyundai dealer. The automaker said the job would cost a minimum of $500 to replace the Blue Link unit in addition to the new subscription fees.
The lawsuit accuses Hyundai of threatening to permanently disable the Blue Link system and render the hardware useless, thereby causing a loss of value of the vehicles.
The complaint alleges Hyundai violated its contract terms of sale by saying on the window sticker the Blue Link system was a standard feature on affected vehicles. Additionally, Hyundai allegedly violated its representations to owners in the Blue Link handbook that said discontinued services could easily be restored for "a nominal reconnection fee."
The Hyundai Blue Link lawsuit was filed in the U.S. District Court for the Central District of California - Guy Coss v. Hyundai Motor America.
Plaintiff Guy Coss is represented by McCuneWright, LLP.