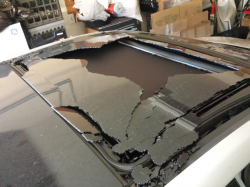 — A Hyundai exploding sunroof lawsuit has been filed after years of reports of panoramic sunroofs that explode and send shards of glass into the cars.
Plaintiff Billy Glenn filed the exploding sunroof lawsuit after the glass in his 2014 Santa Fe Sport exploded just months after purchasing the Hyundai. The sunroof was replaced, but Glenn claims the replacement sunroof also shattered and sent glass into the vehicle.
Although the lawsuit is against Hyundai, many automakers have experienced problems with exploding sunroofs. The lawsuit places much of the blame on the sheer size of the sunroof, an area normally covered by solid metal.
In addition, the Hyundai panoramic sunroofs have ceramic tinted glass that gives a darkened look, something the lawsuit says has been proven to cause glass to spontaneously shatter without anything hitting the glass.
Customers describe a shocking shotgun sound followed by glass raining down on the occupants.
The proposed class-action lawsuit says Hyundai must have known about the sunroof dangers and yet didn't warn the public, especially when buying a vehicle.
Glenn claims Hyundai has sunroof glass problems in models other than the Santa Fe Sport, including the Elantra GT, Sonata, Tucson and Veloster.
In October 2012, the National Highway Traffic Safety Administration opened an investigation into exploding sunroof in the Hyundai Veloster.
In December 2012, Hyundai recalled the Veloster to replace the exploding sunroof, blaming the problem on glass that may have been damaged during mechanical installation at the factory. Then in February 2013, the recall was expanded to include additional Veloster cars.
The Hyundai exploding lawsuit was filed in the U.S. District Court for the Central District of California - Billy Glenn v. Hyundai Motor America et al.
The plaintiff is represented by the Gibbs Law Group LLP, and Tousley Brain Stephens PLLC.