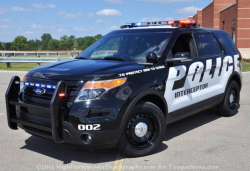 — Ford Explorer Police Interceptor SUVs will get a closer look as the National Highway Traffic Safety Administration (NHTSA) expands its investigation into brake hose problems. The original investigation was opened in May 2015, after complaints about problems with the front brake jounce hoses that can cause a sudden loss of braking.
NHTSA opened the investigation with 10,000 of the model year 2015 Explorer SUVs involved, but that number has grown to 20,000 of the SUVs used by numerous police agencies. Those same vehicles will eventually enter the consumer market as they are retired from official duty.
NHTSA learned of the problem when the new SUVs experienced problems during Emergency Vehicle Operation Course (EVOC) training. A big concern is the brake hose assemblies failed when the SUVs had only a few miles on the odometers.
The investigation determined the hose assemblies either leaked at, or pulled completely free from the caliper-end attachment where the hose is crimped to the steel end fitting. Most of the failures resulted in a sudden loss of braking performance that caused the vehicle to run off the course.
NHTSA also learned the brake hose assembly used in the 2015 Ford Explorer Police Interceptor is similar to hoses used on the 2013-2014 Police Interceptor as well as civilian SUVs.
Ford responded to NHTSA by saying the hose failures occurred because of high temperatures when the SUVs are stationary after hard braking exercises. It's during this time no cooling air is flowing through the brake rotor vents and across brake components.
Ford revised the hose assemblies by including an additional length of brake pipe to provide more dissipation of heat and protect the assemblies from severe thermal effects.
Although Ford believes the problem is unique and only occurs during the demands of EVOC training, the government isn't so sure. The upgraded investigation will now fall under an "engineering analysis" which allows NHTSA to conduct additional tests to determine if the SUVs should be recalled.