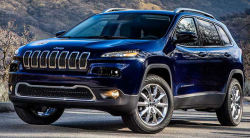 — Days after recalling 753,000 older vehicles for the second time to fix airbags that deploy for no reason, FCA US (formerly Chrysler) has announced a separate recall of 228,000 newer Jeep Cherokees to fix airbags that deploy when they shouldn't. However, this recall involves a different defect compared to the problems that caused the previous airbag recall.
Jeep says model year 2014-2015 Jeep Cherokees have side-curtain airbags and seat-mounted airbags that can deploy without a crash. Jeep says engineers investigated the Cherokees after reports of side-curtain and seat-mounted airbags that deployed when drivers performed "extreme maneuvers."
Jeep says the system senses a rollover crash might be occurring because of the angle of the Cherokee relative to the ground. Although incidents of inadvertent airbag deployments have occurred, Jeep is unaware of any accidents or injuries related to the defect.
Jeep says about 168,092 of the recalled Cherokees are in the U.S., 19,557 in Canada, 4,133 in Mexico and 36,399 outside those regions. The automaker didn't say when the recall will begin. Jeep dealers will upgrade software by re-calibrating the airbag deployment threshold.
Owners of the 2014-2015 Jeep Cherokee can contact Jeep at 800-853-1403.
Read complaints about the 2014 Jeep Cherokee, 2015 Jeep Cherokee and other model years of Jeep Cherokee.