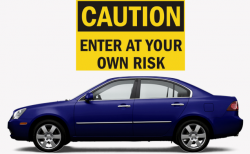 — Kia Optima door lock problems will get a close look in a proposed class-action lawsuit filed by the owner of a 2003 Kia Optima who claims having problems unlocking both front doors.
The lawsuit alleges model year 2001-2006 Optimas have defective door lock mechanisms that can lock a person inside or outside the car, leading to a dangerous situation during an emergency.
Plaintiff Colleen Davison filed the lawsuit after she began having problems with both front doors. Davison claims after using the key fob to unlock the doors, the doors would lock on their own simply from touching the door handle. This caused her to open the doors manually by inserting the key into the lock. Additionally, she couldn't unlock the doors from the inside and had to reach outside to unlock the doors with the key.
Davison says there were incidents where she found herself locked inside the Kia Optima and had to forget using the front doors and instead, climb over the seat and exit through a rear door.
CarComplaints.com has heard from Kia Optima owners who also claim they have to perform stunts to exit the cars.
"Many others have the same problem. Driver's door locks itself when you go to open the door from inside or outside the car. The result is a 3 door car and an embarrassed owner that is relegated to climbing in from the passenger side performing gymnastic moves worthy of a gold medal." - 2005 Kia Optima owner / Chattanooga, Tennessee
"Drivers side door will not open with fob or key. I have to crawl through passenger side to get and out. There should be recall and Kia pay for this defect. This is a safety hazard." - 2005 Kia Optima owner / Greenville, South Carolina
The lawsuit alleges the plaintiff told her Kia dealership about the door lock problems and was told the repairs would cost about $500, money Davison would have to pay because the car was no longer under warranty. Davison had no choice but to drive the Optima while she saved the money to repair the door locks.
Davison had more problems over the next months as it became nearly impossible to manually unlock the doors. Eventually she couldn't open the front doors at all and had to park the Optima, without the ability to lock the doors while the car was parked.
The Kia Optima door lock lawsuit alleges the door locks are clearly a safety defect because of what could happen to front seat occupants in various situations. In the event of a crash, fire or other emergency, not having the ability to unlock the doors could lead to disaster.
The Kia Optima door lock lawsuit was filed in the U.S. District Court Central District of California Southern Division - Colleen Davison v. Kia Motors America, Inc.
The plaintiff is represented by the Braun Law Group, and the Katriel Law Firm.