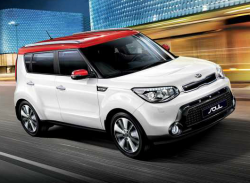 — Over 256,000 Kia Soul cars are recalled to fix problems that can cause a complete loss of steering. The recalled cars include the 2014-2016 Kia Soul and Soul EV that have weak adhesive used to secure the steering pinion gear to the steering gear assembly.
The Soul could suffer a loss of steering if the pinion gear separates.
Kia learned of the problem in September 2015 when it received a report of a pinion plug that backed out of place in a 2015 Kia Soul. The automaker requested the dealership send the steering gear assembly for inspection.
A few days later Kia received another report about a rack and pinion that had malfunctioned while driving a 2015 Soul. Again the automaker requested the steering gear assembly from the car.
That was quickly followed by more reports concerning noise and loss of power steering, then a separate warranty claim was filed due to a steering gear assembly that needed replaced. All the incidents occurred in Kia Souls.
By the middle of October, Kia had determined a thread locking adhesive wasn't strong enough when applied during manufacturing.
The automaker says it has received no reports of accidents or injuries.
The Kia Soul recall should begin December 22, 2015, when dealers will replace the pinion plug that secures the pinion gear and install a set bolt for additional reinforcement.
Owners of the 2014-2016 Kia Soul and Soul EV may contact Kia at 800-333-4542 and use recall number SC125.