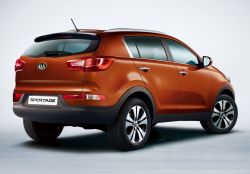 — Kia is recalling over 7,700 model year 2011 Sportage compact SUVs to fix problems with the brake light switches.
Kia has experienced problems with brake light switches before, especially in April 2013, when the automaker recalled over 623,000 vehicles for the problem. The difference now is the Sportage recall affects only the brake light functions, whereas the 2013 recall involved switches that caused numerous problems.
Kia says the 7,700 Sportage SUVs can lose their brake lights each time the switch fails, a problem that has caused 799 warranty claims relating to illumination of the indicator warning lights and 111 warranty claims relating to brake lights going out. However, Kia says it's unaware of any accidents or injuries blamed on the defective switches.
Kia engineers made changes to the switch used in the 2012 Sportage, including making changes to the contact angle of the brake switch plate. The new design fixed the issues.
The recalled SUVs were manufactured March 7, 2011, to June 8, 2011.
Kia says the 2011 Sportage recall will begin at some point in July 2015. Dealers will replace the brake light switch, but until then, it's important to watch for any activity from the brake warning light. If the light is illuminated, any driver behind you will have no idea when you are hitting the brakes.
If you own one of the recalled 2011 Kia Sportage SUVs and have questions, contact the automaker at 800-333-4542 and make reference to recall number SC121.
Have a complaint about your Kia vehicle? Add your complaint now, or read complaints about the Kia Sportage or other Kia vehicles.