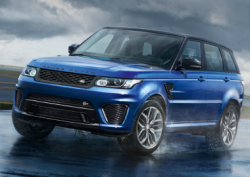 — Two weeks after recalling 100,000 Range Rover SUVs, Jaguar Land Rover is recalling almost 62,000 Range Rovers because of front passenger airbag problems.
Land Rover says the recalled SUVs are the 2013-2015 Range Rover and 2014-2015 Range Rover Sport with faulty occupant classification systems. Land Rover says the system can't tell the difference if a child or a small adult is sitting in the front passenger seat.
Airbag systems are complicated in the fact they must "decide" when the airbag should or shouldn't deploy in a crash based on the size of the person sitting in the seat. Sensing a child in the seat instead of an adult can mean no airbag protection in the event of a crash.
Land Rover says the recalled 2013-2015 Range Rovers were manufactured August 23, 2012, to February 5, 2015, and the 2014-2015 Range Rover Sport SUVs were built June 16, 2013, to February 5, 2015.
Land Rover says the airbag-related recall will begin April 17, 2015, when dealers will update the occupant classification software.
A separate Land Rover recall has been issued, but it involves only one model year 2015 Range Rover Sport and one model year 2015 LR4.
Land Rover says the engines could seize because a connecting rod can separate from the crankshaft. The automaker says both recalled vehicles are equipped with 3.0L V6 supercharged engines.
The automaker says the 2015 Range Rover Sport was manufactured November 16, 2014, and the 2015 LR4 was built November 11, 2014.
The engine recall will begin April 2, 2015. Land Rover dealers will need to replace the engines in both vehicles.
With questions about these recalls, contact Land Rover at 800-637-6837. The number for the engine recall is P055 and the number of the airbag system recall is P059.