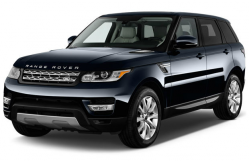 — For the fifth time in less than a month, Land Rover is recalling its Range Rover and Range Rover Sport SUVs. The automaker says 28 model year 2015 Range Rover, Range Rover Sport and LR4 SUVs have wheels that could possibly fall off the vehicles. Land Rover says the lug nuts could crack and become loose, which completely defeats the purpose of the lug nuts.
At least the problem affects only 28 SUVs, all built between January 6, 2015, to January 23, 2015.
Land Rover expects the recall to begin April 17, 2015. Dealers will simply replace the old lug nuts with new lug nuts, which shouldn't take much time to accomplish.
If you own one of the 2015 Land Rover Range Rover, Range Rover Sport or LR4 SUVs and have questions, contact the automaker at 800-637-6837 and make reference to recall number P056.
In February 2015, Land Rover recalled about 62,000 Range Rover, Range Rover Sport and LRV SUVs to fix engine and airbag problems.
That same month, Land Rover recalled 100,000 Range Rovers and Range Rover Sports because of problems with the braking system.